In recent years, the creative techniques of art therapy have gained popularity, including among those within (and/or supporting) the disability community. Maybe that's why the annual logo design of a prominent disability awareness month has become such an important representation. AmeriDisability is pleased to spotlight Developmental Disabilities Awareness Month, as well as the talented artist whose work was chosen to be the official logo design of the Developmental Disabilities Awareness Month 2023 campaign.
What is Developmental Disabilities Awareness Month?
In 1987, President Ronald Reagan signed a proclamation for Developmental Disabilities Awareness Month, an observance held annually each March. The effort is centered on supporting the needs and equal access to opportunities of people with developmental disabilities.
Developmental disabilities, as defined by the Centers for Disease Control (CDC), are a group of conditions due to an impairment in physical, learning, language or behavior areas. Developmental disabilities, which roughly impacts 1-in-6 children born in the U.S., include autism spectrum disorders, cerebral palsy, attention-deficit/hyperactivity disorder (ADHD), learning/intellectual disabilities, hearing loss, vision impairment and other developmental delays.
Theme of Developmental Disabilities Awareness Month
Each March, the National Association of Councils on Developmental Disabilities (NACDD), along with its partners, spreadheads an awareness campaign based on building a stronger, more diverse community by uniting people of all abilities. The reality is that barriers for people with disabilities remain and, thus, inclusive action — by people with and without disabilities — should (no… must) be taken.
The theme for the 2023 Developmental Disabilities Awareness Month is "Beyond the Conversation." As the NACDD attests, it is time to ask the question: "Once the conversations have taken place, what comes next?" The answer is, of course, action. NACDD urges that the time for talking is over, and now is the time for all of us to act to create necessary change.
Artist Helps Illustrate Developmental Disabilities Awareness Month
To position a purposeful logo design, NACDD  collaborated with Art Enables, a D.C.-based art gallery and vocational arts program dedicated to creating opportunities for artists with disabilities to make, market and earn income from their original and compelling artwork. A vibrant creation by Jamila Rahimi, one of Art Enables resident artists, was chosen to serve as the logo of this year's observance campaign.
The 2023 Developmental Disabilities Awareness Month logo featuring "Flowers," a piece Rahimi created with watercolors and ink. "Flowers" boosts Rahimi's signature style — compositions formed from vibrant shapes with dense black definitions.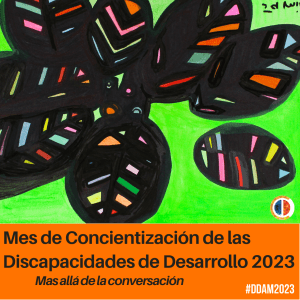 "NACDD chose Jamila's artwork because it resonated with our theme of 'Beyond the Conversation.' We interpreted the petal that was separate from the flower as the one "stepping out" to take action," Rafael Rolon-Muñiz, NACDD's Communications & Program Coordinator, told AmeriDisability. "Our efforts are to always ask the question of 'what's next and what is being done?'"
Fans of Rahimi's artwork can view more than two dozen of her other pieces currently available for purchase, priced $35 to $165, through Art Enables. In addition to art, Rahimi enjoys baseball, nature and travel, as well as time spent with her family and dog.
Art therapy has been proven to aid one's physical and emotional health, as we're certain Rahimi and her fellow art colleagues would affirm. For mental well-being, for example, art therapy boosts creative expression, ignites a calming effect and can relieve stress. For physical engagement, repetitive exercise (i.e. painting strokes) of weakened muscles can help stroke survivors, for example, gain elasticity, strength and balance.
Taking Action
Listen, do continue to have the conversation (and over and over again because it's needed). But, then, take action. Speak up. Advocate. And encourage people – with and without disabilities – to join you in taking disability beyond the conversation.
During Developmental Disabilities Awareness Month, consider incorporating the hashtags of #DDawareness2023, #DDAM2023, #BeyondtheConvo and #BeyondtheConversation with awareness posts on social media platforms.
For additional resources, download informative PowerPoint slides from the NACDD in English or Spanish (or click here for the Zoom Recording).