Hospital patients don't expect to see small stallions strutting the hallways; but that's becoming the norm thanks to Gentle Carousel Miniature Therapy Horses. This North Central Florida based organization visits 25,000 people each year at medical treatment sites, hospice centers, assisted living communities, veteran and first responder facilities and even personal homes.
Now one of the largest equine therapy programs in the world, Debbie Garcia-Bengochea co-founded Gentle Carousel in Ocala more than two decades ago. At the time, therapeutic riding options were available at area farms, but the former school principal identified an accessibility gap.
"There were (and are) a lot of people who can't get out to the horses, so we bring the horses to them," she explains. While maintaining a strong local presence, Gentle Carousel now has a secondary farm in Tennessee, an affiliate site in Greece and also conducts visitations nationwide. "When the elevator door opens and mini horses walk out, no one is thinking about cancer or disease for a while," she says. But creating such memorable distractions takes hard work.
Through an intensive two-year preparation program, the tiny house-trained team learns how to navigate stairs, ride elevators, tolerate sounds (i.e. ambulance sirens, helicopters), maneuver tight spaces, interact with people with differing abilities and many more impressive tasks. The horses collaborate with doctors, therapists and other professionals to support survivors of stroke, traumatic brain and spinal cord injuries, amputations, burns and other conditions requiring physical and emotional rehabilitation.
The horses have a way of easing tension in times of stress. "The horses don't just visit people; they become a part of the treatment team," asserts Garcia-Bengochea. For example, a person learning to walk again may feel less apprehensive when using a miniature horse as a crutch; and a patient healing from burns may not notice their pain as much when focused on combing a beautiful mane.
In other environments, the goal is purely horse play! The Ronald McDonald House Charities of North Central Florida serves as a comfortable home away from home for families with children receiving care at medical facilities. On a weekly basis for the past 15 years, Gentle Carousel's horses have stomped through the house to the delight of residents and staff alike.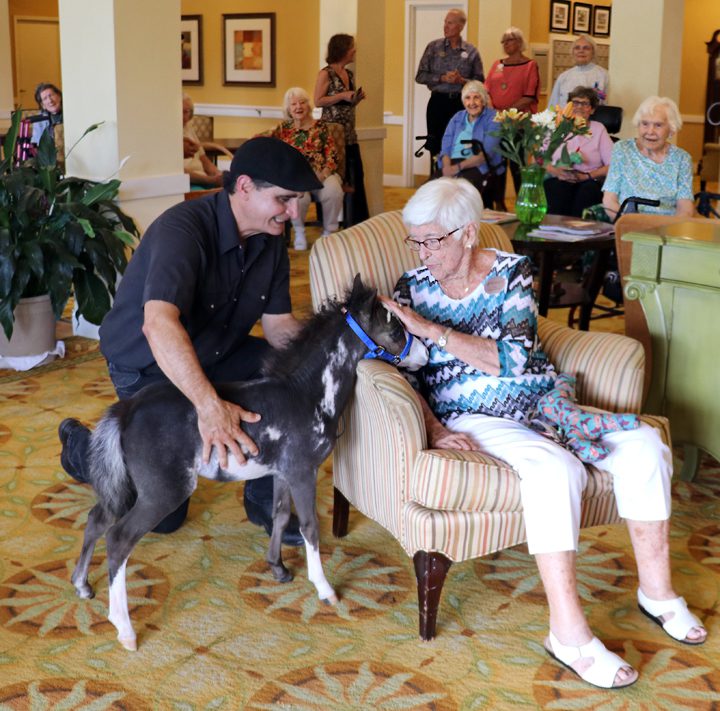 "For one moment in time, our families can think about something other than their child being in the hospital, and feel happiness and hope," says Sherry Houston, Ronald McDonald's executive director. "The horses are very intuitive, so they can engage with patients at their level." Kiddos take the reins to guide horses around the butterfly garden. And playful ponies also gallop from room to room to hug those on bed rest.
These therapeutic interactions are much different than that of therapy dogs or companion animals. "A miniature horse uniquely brings joy and awe," Houston says. A full-size horse can be intimidating, but the small statute of miniatures is welcoming for all.
On the other end of the age spectrum, the tiny team has tall orders at assisted living facilities and senior centers. Garcia-Bengochea says horse visits are especially blissful for elders who either grew up in or worked in Ocala's large equine community. [Ocala, Florida is known as the "Horse Capital of the World."] Some seniors simply appreciate the wow factor of the costuming, props and music.
The petite squad currently includes 19 horses, most of which have striking blue eyes. Perhaps the most well-known of the herd, a horse named 'Magic' has proven that the blue ribbon isn't the only equine distinction. Magic was inducted into the hall of fame of both the Florida Veterinary Medical Association and the United States Equestrian Federation/Equus Foundation. Producing a truly magical moment, Magic was the guest of honor at a tea party honoring a terminally ill 5-year-old girl. "Magic and two of equine friends arrived in their tuxedos, and the little girl's cousins wore princess dresses," recalls Garcia-Bengochea. "It was a chance to create a lasting happy memory for her and her family."
Gentle Carousel also serves those affected by trauma. "The first time the [surviving] children from Sandy Hook Elementary saw each other after the shooting, Magic was there at the Newtown Public Library," Garcia-Bengochea shares. "It was the beginning of their healing." Gentle Carousel likewise helped after the shootings at Emanuel African Methodist Episcopal Church in Charleston, SC and Pulse Nightclub in Orlando, FL; the tornadoes in Moore, OK; the fires in Gatlinburg, TN; and child trafficking incidents in Washington, D.C.
Additionally, Gentle Carousel is active in the community through literacy and kindness programs held at local libraries, schools and youth centers. When the coronavirus pandemic hit, however, Gentle Carousel transitioned to FaceTime chats and social media connections. More than half a million Facebook followers can watch "Story Time on the Farm with Mr. Jorge," led by Jorge Garcia-Bengochea, co-founder and head trainer, alongside a horse. And like so many other businesses and organization well over a year into pandemic life, Gentle Carousel is working to find a new normal as coronavirus cases trend downward.
"We are doing face-to-face [encounters] and tele-visits right now, depending on the situation," Garcia-Bengochea cautions.  "The horses visited with an assisted living program in-person yesterday… but outdoors instead of indoors. Today, we are doing a reading program with the horses at a library, on the front lawn. There are many things that we learned from the tele-visits and will continue using in the future. FaceTime is fun for young patients! Everyone wants to hear 'There is a pony on the phone for you.'"
‍
Gentle Carousel encounters are free of charge but, because of the pandemic, the organization's annual fundraiser was canceled. Thus, to support the mission, donors can contribute monetary gifts and/or items listed on the charity's Amazon Wish List. For more information, visit GentleCarouselTherapyHorses.com.
‍
All photos courtesy of Gentle Carousel Miniature Therapy Horses.
A version of this article originally ran in Natural Awakenings, a sister publication to AmeriDisability.
Nancy DeVault is an award-winning writer/editor contributing to local and national publications. Her storytelling spans a wide range of topics, including charity, disability, food, health, lifestyle, parenting, relationships and travel. Married with two kiddos, Nancy describes herself as a lover of the outdoors, fitness, news, traveling and binge reading magazines while sipping coffee.‍