It's that time of the year when couples shop for heart-shaped chocolate boxes, fragrant bouquets, sappy greeting cards and sparkly jewels. The National Retail Association estimates that Valentine's Day in 2022 will garner $21.8 billion in sales. Wowzer! Jewelry accounts for approximately 20% of Valentine's Day gift purchases. And so, AmeriDisability has compiled a list of a dozen disability-friendly jewelry gifts that we know all couples – abled-bodied, interabled and disabled – will LOVE.
12 Disability-Friendly Jewelry Gifts   
Declare your affection with this necklace engraved with the word "love" in American Sign Language (ASL). Available in solid gold, gold fill, sterling silver and rose gold, this necklace comes in several adjustable lengths. Plus, 10% of sales of this ASL-inspired piece support the Washington State Association of the Deaf. Other signs and/or symbols from this line include "peace," "rock on" and more. And 10% of those profits go to the Brain & Behavior Research Foundation, which funds research committed to alleviating the suffering caused by mental illness. Two thumbs up for that!
Themed with x's and o's to symbolize hugs and kisses, this ring by Tula Stone Jewelry aims to remind the wearer that they are surrounded by love. One of the copper rings is intended for fidgeting, which can aid concentration and/or relieve stress and anxiety. This ring, and many other disability-friendly pieces, is sold by Patti + Ricky, an adaptive fashion marketplace featuring accessories, clothing, jewelry and more.
This 14K "CZ Band" by HearClip is a beautiful gift for stylish loved ones who are a part of our deaf and hard-of-hearing community. Also sold by Patti + Ricky, the white gold finish on this cuff will have jewelry admirers of all abilities feeling green with envy over this fashion-forward piece!
Alex and Ali's 'Path of Life' design comes as a bracelet, charm or necklace, but we especially adore the 11.5" anklet option. Available in silver or gold, this anklet gives a leg up to life's twists, turns and miraculous detours. And, of course, many of us within the disability community can certainly relate to that, right?  
Sensibly priced on Amazon, this sleek rectangular piece is a shining star. The colorful pendant is made of polymer clay pressed into a silver-plated cabochon type pendant blank and has silver-plated metal dots that are raised, smooth and easy to read. Personalize a word, name or saying, and choose the favorite color of your loved one with low vision or blindness.  
Research has found mind-body approaches — such as relaxation, breathing or guided imagery — can help treat many health conditions, according to the Department of Veterans Affairs (VA). This is because your mind affects your body, and your body affects your mind. This dance between the two can improve your health or make it worse. Your mind has power! And so, the Intentional Capsule invites wearers to use that power by writing a message, mantra or intention; then keep it close – both physically and mentally. The water-resistant, nickel-free capsule is 1" in length and 5/16" in width.  
Disguised as a fashionable gloss cuff, the iPhone compatible Flare smart bracelet has a hidden button that allows the wearer to trigger a fake phone call, text friends for help, send a GPS location or even contact 911. Choose from gold, rose and silver metal finishes, and even a textured design. Flare was designed by two assault survivors as a safety item, but Flare may also aid some people with disabilities that require a safety feature. Leather and beaded bands are also available.
Munchables Chewelry and The MunchablesSensory shop on Etsy offers this stylish chewable for adults or teens with autism, ADHD or special needs. This sophisticated piece is a standout among users because most other oral necklace designs skew toward a younger demographic. Available in gold or silver, the leaf is recommended for mild-moderate chewers but reviewers praise the piece for its durability. One reviewer, Lachlan T., said: "As an autistic adult, I was worried that a product geared toward children wouldn't hold up for my sensory needs. But that fear has dissipated now having this in my possession. Clearly made to excellent quality; perfect for my chew style. It looks gorgeous too, and fits in with my sense of style so I don't feel like it "stands out" when I wear it in public. The clasp is easy, doesn't require a lot of dexterity which I love. I highly recommend this!"  
Special Sparkle describes itself as "a special kind of jewelry company." It's run by Kelly Neville, who loves all things 'bling' and has Down syndrome, and her mother Karen. The pair makes an array of bracelets and key chains. We're especially drawn to the aromatherapy line, like the True Blue Aromatherapy bracelet. This piece combines amazonite beads with dyed lava stones. Just dab a few drops of your favorite essential oil onto the lava beads to enjoy. According to the Mayo Clinic, aromatherapy stimulates "smell receptors in the nose, which then send messages through the nervous system to the limbic system ─ the part of the brain that controls emotions." Studies have shown that aromatherapy may reduce anxiety, depression, headaches and pain (especially for people with kidney stones or osteoarthritis), and also improve sleep and quality of life.   
Designer Cindy Lou hand-makes natural stone jewelry using raw crystals, fossils, shells, sea glass and other unique materials. Because she has mitochondrial disease, she aims to keep her collection disability-friendly, featuring "necklaces and bracelets that are easy to wear for people with mobility, strength and dexterity issues." This includes clasps that are easy to open and close and even clasp-free options. Shop online at cindylouwho2.com or via Etsy. Ideal for Valentine's Day, we love Cindy's dark pink fossil coral carved into a heart pendant. It's wrapped in sterling silver wire and strung on a silver-plated chain with a self-closing lobster clasp. Custom designs are also available.  
This Trelawear "Sally" Bluetooth pendant features faceted resin stones available in five different colors: opaque black, lapis blue, turquoise blue, white mother of pearl and tanzanite purple. This piece is encased in 12K micron plated gold or imitation rhodium finishes, with a magnetic clasp. It is compatible with iPhone and requires a monthly monitoring system.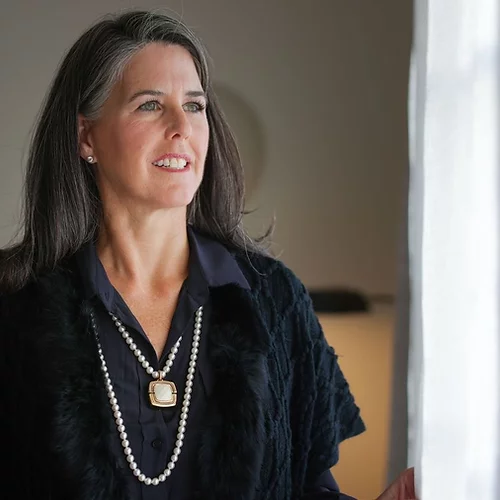 Because honey bees would together, they often symbolize victory, courage and community. Valerie Greene, a two-time stroke survivor and founder of the Bcenter, explains: "The bee has become the metaphoric pillar of recovery (for stroke survivor and the disability community as a whole) essentially because bees are not designed to fly but can; thus, reinforcing how a belief in recovering from a stroke starts with the belief that you can and will."
Here are Links to Jewelry Helpers
For similar content, read these AmeriDisability articles:
Feature image credit: Special Sparkle | Prices and availability are subject to change.