By Meegan Winters
Losing my best friend was one of the best things that ever happened to me…
Almost five years ago, I lost my dear friend Jessica as a result of her lifelong battle with muscular dystrophy (MD), a genetic condition that results in weakening and deterioration of muscles in the body.
Jessica spent her whole life in a wheelchair, watching others experience things she thought she could never. Fortunately, she was born into the most amazing family ever! They never ever let disability impact her experiences in life (or her brother's, who also has MD). They took several family vacations, included her in community events, had wild and crazy parties at their house and even had the courage to send her off to Central Michigan University where she nearly completed her master's degree.
As a result of Jessica's muscular dystrophy, she required assistance for many of her daily needs: dressing, using the restroom, taking a bath, picking things up off the ground, brushing her hair and other daily activities so many of us take for granted. Her ability to navigate life, advocate for herself and show so much compassion for others (never feeling sorry for herself) was admirable and incredible to say the least.
Jessica and I lived together at Central Michigan University; and although I have many stories of our fun times, I will keep those to myself for now! This was probably the first time I truly understood how challenging accessibility can be. It was our goal to not hold back due to her disability, but the reality is that some bathrooms were impossible to get into, house parties were very challenging (but luckily plenty of strong, drunk fellas were there to help lift her chair) and trying something new was always a risk because it may be an hour before the taxi with a lift would be able to come back to pick us up.
Seeing The Next Impactful Chapter
During the last few months of Jessica's life is when I learned the most. She was suffering, she was unhappy, she wasn't even able to eat solid foods anymore (one of her favorite things to do… haha). I selfishly didn't want to let her go though. How would I survive not talking to her every day? Jessica assured me that she would be with me even after she passed and she would be happier than ever. I believe both of these statements now. She IS with me on the journey creating Able Eyes, a website I launched that is designed to help people with both physical and invisible disabilities access the community with ease and comfort. This is what she would have wanted to do and I believe this journey is in honor of her and also a part of her.
Quite simply, it is because of her passing that this amazing digital service was developed, and Jessica and I are both able to follow our true paths and passion for helping others. In addition to my experience with Jessica, I've also worked with children and adults on the autism spectrum for over 15 years as a teacher and administrator, which has enhanced by drive to help others.
What is Able Eyes?
Here's a Q&A with everything you need to know about Able Eyes.
1. What is Able Eyes?  
Able Eyes (www.AbleEyes.org) is diligently working to create inclusive communities on a national scale through the use of 360 virtual tours of public spaces. Able Eyes does not rank or judge accessibility of locations. You are able to put in your zip code to view the businesses in your area that have virtual tours to allow patients to become more comfortable with the space before physically visiting.
Able Eyes believes in helping ALL members of your community (and communities across the US) access local businesses without stress. We help people "Know Before You Go" by creating or adding virtual tours to our website for people of all abilities but specifically for those with physical and invisible disabilities.
For businesses, Able Eyes virtual tours offer a creative option to help the community while gaining a powerful marketing tool for website and social media use.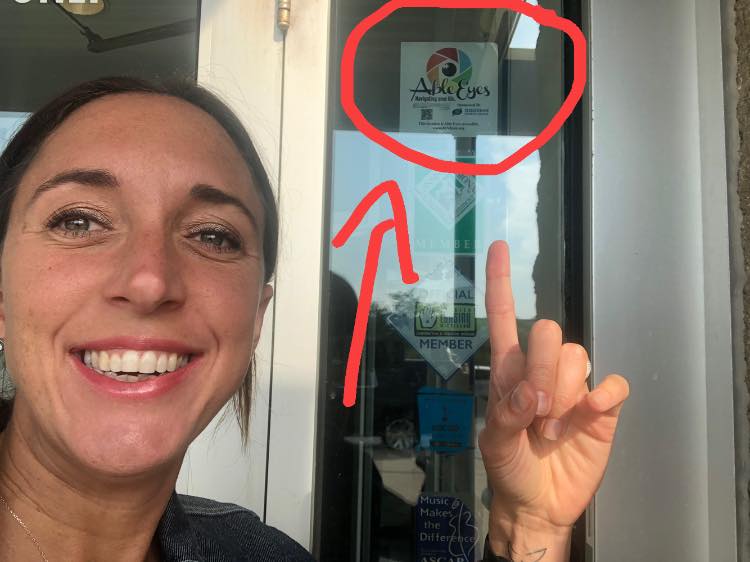 2. Why Able Eyes?
26% of the population now has a disability (1-in-4). Of that 26%, 80% are invisible (autism, anxiety, PTSD, ADHD, etc). Currently, we do not have any accommodations in place to help those with invisible disabilities access the community. Able Eyes helps both, as well as those without disabilities that like to use virtual tours.
As a special educator and administrator working with students on the autism spectrum, I identified a need and the importance of a tool such as Able Eyes several years before I actually took action. So many families are NOT going out into the community if they have a child or family member with special needs. This could be the unknown accessibility for a wheelchair user, the lack of predictability for a child on the spectrum or any number of challenges one might face with different needs. In all scenarios, both the family and the individual are sacrificing their quality of life, their potential and their experiences because of the unknown. Able Eyes is the window to the future that will help change all of this. One story will always stand out to me: when I was a teacher in the classroom, I had a parent call one morning in tears. Of course, I immediately assumed something was wrong or she was upset. But, in fact, they were happy tears! She went on to tell me the very detailed story of her family's VERY FIRST trip out to a restaurant as a family of four (her son was 10-years-old). Could you imagine 10 years passing and never having an opportunity to experience a meal out as a family?
3. Who is Able Eyes for?
The primary users are parents, teachers, therapists and individuals of various abilities. In addition to to the virtual tours, Able Eyes also has a Video Modeling library; short "how to" or "what to expect videos" to either teach expectations or prepare a person for an upcoming activity. The primary goal is to ensure all people  are comfortable, have access and have the tools to live their best life.
The Able Eyes Mission
Do you know someone with autism? If you do, you know that visiting new locations can cause a LOT of anxiety and sometimes results in loud, disrupting and even destructive behaviors.
Do you know a person that uses a wheelchair? If you do, you know that going out into the community can be a challenge because of curbs, parking, small restrooms, steps, etc.
Do you know someone that has experienced trauma or has anxiety? If you do, you know that something that seems simple to many can feel like drowning, such as large crowds, tight spaces or anything out of the ordinary.
Do you know anyone with or without a disability that experiences challenges out in the community?
Do YOU often Google places to learn more, read a menu or take a tour before you visit?
The mission of Able Eyes is to provide visual, state of the art experiences/teaching tools to children and adults with disabilities. Able Eyes provides a user friendly platform to teach skills, and explore environments from several different perspectives. Our ultimate goal is to make businesses and public venues more accessible for people of all abilities by offering visual tours, making them "Able Eyes Accessible."