Jennifer Dempsey flourished as an exceptional student education (ESE) teacher but, over time, the ring of the oven timer sounded sweeter than the school bell. The self-proclaimed "stress baker" was accustom to whisking away worries using pantry ingredients. Though she admits, there was a lengthy learning curve to mastering pie baking. In fact, it took her a full year to perfect buttery, flaky, crack-free crusts.
"[About five years ago], when everyone else was making New Year's resolutions to lose weight, I made a resolution to bake a pie a week," recalls Dempsey. The Gainesville, Florida resident even surpassed that goal and baked 54 sugary sensations within the year. "I fell in love with the versatility of pies and the creativity of making them," she explains. Somewhere along the way, her daughter Joscelyn inspired her to close the textbooks and open recipe books.
A Taste of Purpose
At 13 months old, Joscelyn had a hemispherectomy, a complicated neurosurgery. "Doctors had to take out the entire left side of her brain because it was malformed and she was having catastrophic, life-endangering seizures that didn't respond to medication," Dempsey says of her youngest of five children. Once engaged in the disability community, Dempsey noticed an alarming gap. "I didn't recognize the need for more employment opportunities for adults with disabilities until I started talking to other parents and thinking about Joscelyn's future and what she would do when she grew up."
Cooking Up an Inclusive Concept… And the Untimely Fizzle
Adults with disabilities account for one-fifth of the population, yet are unemployed at a rate twice that of peers without disabilities. In January 2020, Dempsey literally rolled out a plan for change with her rolling pin! She launched PiesAbilities, an artisanal business that stirred up much more than baked goods. Dempsey saw sweet symbolism in her business venture. Like people, no two pies are alike; and, so, the subtle differences are what grant each and every person/pie unique flavor and flare.
PiesAbilities invested in equipment geared for bakers with physical disabilities. For example, an adaptable hand pie maker, a simple, one-crank machine that Joscelyn loved to use. Everything seemed to be falling into place. Then, the coronavirus pandemic hit. Dempsey and her cutie-pie sidekick were heartbroken to see their dreams go up in flames. So the duo, known for their unique concoctions, whipped up something new.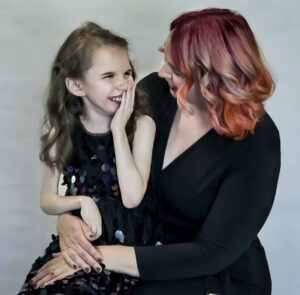 Cooling the Oven to Light the Candle
Dempsey says that when her home-based bakery closed as a result of the pandemic, she missed the smell of baked pies. She began to re-imagine the "piesability" of sharing her love of yumminess with the world through a new approach. That's when the concept of bakery-scented products ignited! "I've always enjoyed the cozy ambiance that candles provide and realized I could recreate those same scents and give people a new way to enjoy the cozy, nostalgic feelings that come from smelling those delicious, familiar smells," she explains.
Dempsey started learning the process of candle-making in the summer of 2020. In April 2021, PiesAbilities Candle Co. launched! "There was a lot to learn about the process of making candles, including understanding the different wax types, wick sizes and fragrance oil calculations," says Dempsey. "Making a bad, unsafe candle is easy but making a highly-fragranced, non-toxic candle that burns cleanly and evenly is definitely a learned skill that takes time."
PiesAbilities' candles use premiere ingredients, like 100% soy, cotton wicks and recyclable containers. Dempsey hand-pours the candles and custom blends phthalate-free fragrance combinations to achieve comforting aromas that match fresh-from-the-oven goodies. "I converted our enclosed patio into a candle studio, complete with a wax melting area, pouring/mixing area and packaging area. My house smells great all the time," she cheerfully affirms.
The customization often comes from Dempsey's close circle of loved ones. For example, inspired by a garden-loving friend, she made a candle that emits notes of heirloom tomatoes and rich soil. Thanks to a cowgirl pal, PiesAbilities blended scents of saddle leather, woodfire smoke and orange blossom. Oh, and as for the apple of Dempsey's eye (Joscelyn), PiesAbilities Hot Apple Cider is a fall favorite. That's what it's all about – letting your senses magically embrace and feel the sweetest moments. "Light a PiesAbilities candle, close your eyes and suddenly you're in Grandma's kitchen eating a freshly-baked cookie! Mom is cutting your 8th birthday cake and all your friends are there to celebrate you. Your family is gathered around the dining table on Thanksgiving sharing laughter and pie. You feel warm, love and included," Dempsey describes. That inclusion is the main ingredient.
From edible pies to inedible pie candles, Dempsey is committed to cooking up something special. PiesAbilities Candle Co. donates five percent of every candle sale to nonprofits that support and empower adults with disabilities, such as GrowHub. "With every candle we sell, we're lighting a path to a more inclusive world," Dempsey proclaims.
Joscelyn, now 10 years old, is learning the different aspects of the business, from making the candles to packaging. Safety is a priority, so she isn't yet tasked with mixing or pouring hot wax. Although she's a pro at centering wicks in containers, pulling inventory for order fulfillment and even naming scents.
A Bigger Slice of the Pie
Dempsey says the biggest advantage PiesAbilities has with the candle company versus its original pie baking business is the ability to reach more people with the message of inclusion. That's because it's easier and less expensive to ship candles beyond the local market. Plus, there is much less waste, meaning the shelf life of a candle is better than an expiration-dated pie. The bulk of PiesAbilities Candle Co. sales comes from online orders, although a limited selection is sold at retail locations.
"I love stepping into my 'candle kitchen' and whipping up a recipe for a candle that smells like my favorite pie! In many ways, creating a candle with layered scent notes isn't that different than creating a pie with different flavors. You have to get the proportions right so no one ingredient overpowers the others and the different components complement one another," Dempsey compares.
Once business demands more manpower than the mother-daughter team can manage, PiesAbilities Candle Co. will further employ adults with disabilities. PiesAbilities is already exploring business partnerships with two creative artists who have disabilities: a designer of candle coasters, and a ceramics artist making candle containers.