Article courtesy of Airbnb 
As the world undergoes a travel revolution brought on by the way people live and work, Airbnb continues to focus on making it easier for people with disabilities and other accessibility needs to also enjoy the flexibility of this new approach to travel. To better serve the estimated 1.2 billion people in the world who have a disability, the company is introducing new ways to help guests find and book accommodations and activities that meet their needs.
These innovations were announced as part of the Airbnb 2021 Winter Release, a suite of features that provide additional support and protection for Airbnb Hosts, while giving guests a better, more seamless approach to living and traveling on Airbnb.
Accessibility Review
Under a new accessibility review process, Hosts simply submit photos of the accessibility features in their home, which are then manually reviewed by a specialized team of Airbnb agents. This way, guests can be confident that the features listed by Hosts have been confirmed by a team of specialists.
This process is designed to give guests clear information to help them determine if a listing meets their needs. To date, Airbnb agents have reviewed and confirmed the accuracy of 100,000 accessibility features in 25,000 homes around the world.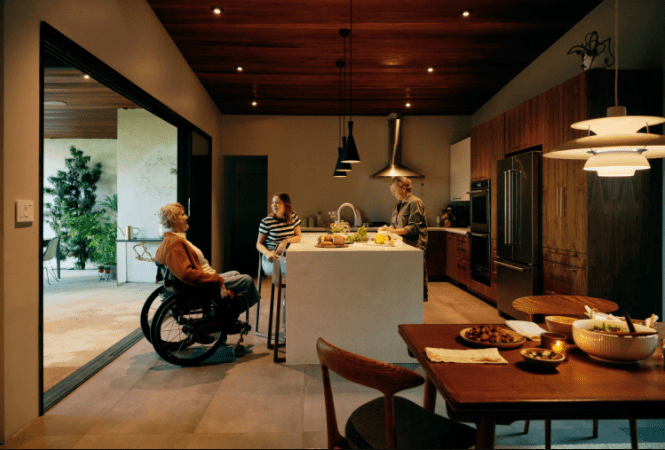 Improved Search Filters
Airbnb is also making it easier to find these stays with updates to 13 search filters, including step-free bedroom access and accessible parking, which are more prominent on the search screen and include more specific details about the accessibility feature. For example, the "Wide entrance to bedroom" feature was changed to "Bedroom entrance wider than 32 inches."
Experiences Accessibility
With Experience Hosts around the world offering activities that accommodate a variety of needs, accessibility features for Experiences are now clearly displayed on each listing page. Guests can also select from 11 filters to find Experiences where Hosts offer sign language, an activity with no stairs or steps, or free admission for access providers who assist people with disabilities, among other features.
Hosts of Experiences must submit a detailed written description of each accessibility feature, which are designed to help meet a variety of mobility, communication and sensory needs. These descriptions are manually reviewed by a specialized team of agents for description quality.
Several organizations have outlined their support of these new measures and Airbnb's commitment to improving accessibility across the platform:
"It's been a privilege to work with Airbnb to help develop a streamlined experience for their guests with disabilities. We're especially thrilled that guests with disabilities will be able to make reservations with confidence, thanks to Airbnb requiring Hosts to provide photos of the accessibility features they advertise in their homes and now launching a process to review these photos for accuracy." – Reyma McCoy McDeid, MA, Executive Director, National Council on Independent Living
"We commend Airbnb for advancing the inclusion of people with disabilities in all facets of our society. Its commitment to our community enables wheelchair users to participate in the joys of travel and live with greater independence." – Vincenzo Piscopo, president and CEO, United Spinal Association
"We are pleased to create alliances that transcend borders and break down barriers, and that is why we are collaborating with Airbnb to offer new opportunities for leisure, recreation and tourism to people with disabilities, without limitations that restrict their rights to access destinations in our country on equal terms. Through its platform, and its new Accessibility Review process and updated search filters, Airbnb is promoting accessibility in accommodations, and as the governing body of disability in Costa Rica, Conapdis, has had the joy of being part of this process that is undoubtedly a fundamental step so that no one is left behind." – Francisco Azofeifa Murillo, executive director of the Costa Rican National Council of Persons with Disabilities (Consejo Nacional de Personas con Discapacidad – Conapdis)
"We are delighted to continue collaborating with Airbnb because they are truly committed to developing and offering more accessible options on their platform. Costa Rica Tourism Accessible Network believes in the right of leisure and recreation for all, so our vision is that accessibility is the route for a healthy coexistence and we love the path Airbnb is working towards achieving it." – Stephanie Sheehy, Executive Director of Costa Rican Accessible Tourism Network (Red Costarricense de Turismo Accesible)
Filters for Stays
Step-free guest entrance
Step-free path to the guest entrance
Guest entrance wider than 32 inches
Accessible parking spot
Step-free bedroom access
Bedroom entrance wider than 32 inches
Step-free bathroom access
Bathroom entrance wider than 32 inches
Shower grab bar
Toilet grab bar
Step-free shower
Shower or bath chair
Ceiling or mobile hoist
Filters for Experiences
Accessible parking spot
Mainly flat or leveled ground
No steps or stairs
Accessible bathroom
Sign language
Designated sighted guide
Audio/verbal information
No extreme sensory stimuli
Quiet retreat space
Free admission for people assisting guests with disabilities
For more information, visit airbnb.com/accessibility.