Adaptive yoga is an accessible style of yoga that offers flexibility ─ pun intended ─ for individuals with varying abilities and body types. It centers on working toward one's personalized goals through a mind-body connection. Modified poses allow for differing variations to foster practice accessibility for people with and without disabilities.
"Yoga doesn't see one's disability as an obstacle but rather an opportunity," says Dr. Amanda Arruda, owner of Physical Therapy and Wellness based in Central Florida. She continues, "Yoga is available to everybody and adaptable to every body type." Throughout her career as a yoga instructor and physical therapist, Dr. Arruda has specialized in serving a diverse population, including individuals of all ages with disabilities, high blood pressure and other chronic conditions.
Yoga provides physical benefits with movement; social aspects through the community of an inclusive class or one-on-one with a yoga teacher or yoga therapist; and, in some cases if the student wants to take it there, a spiritual aspect to find inner strength and inner peace.
"I became an advocate for adaptive fitness and recreation, which led me to explore yoga-related medical research," Dr. Arruda explains. "I found study after study suggesting that yoga and mindfulness practices — like guided relaxation and breathing activities — are effective in improving balance, range of motion and strength, while also reducing anxiety, depression and stress, and/or stress-related conditions like blood pressure."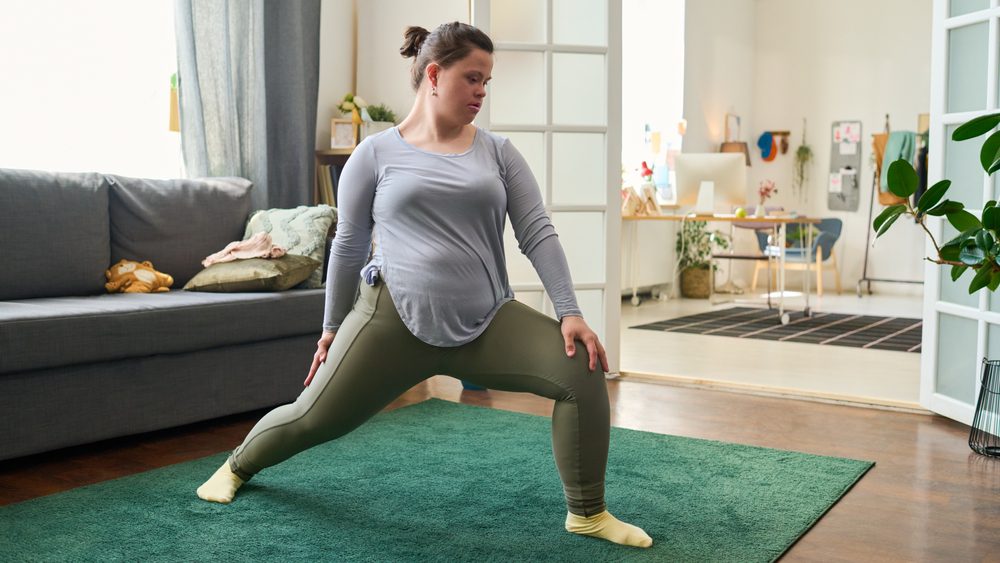 While the benefits of yoga are proven and widespread among different populations, research has drilled down further to identify some specific gains for members of the disability community. For example, a study of patients with Parkinson's disease found that adaptive yoga improved physical mobility while reducing depression and anxiety symptoms. Similarly, another study found that adaptive yoga improved the balance and walking speed of patients with brain injuries. And additional research found adaptive yoga also helped those with cerebral palsy loosen muscles that tended to be, otherwise, tight and spastic.
Adaptive Yoga Equipment
Yoga props offer added support to practice poses while maintaining healthy alignment. "Props can help people of all abilities relax and feel more confident to explore adaptive yoga," says Dr. Arruda.
Part of the Tommy Hilfiger Adaptive Collection, these adaptive leggings feature the clean, classic Tommy style with internal pull-up loops (designed for ease of dressing) and an elastic waist. The material is soft, stretchy and machine-washable.
Available via paperback or kindle, the text (with visuals) of this book instructs budding yogis on how to enter, hold and exit a pose, as well as insight into why such pose is beneficial for specific conditions. It offers guidance and recommended poses for some of the most common conditions and disabilities, including arthritis, cerebral palsy, lower back pain, lower limb amputation, Parkinson's disease, multiple sclerosis, spinal cord injury and stroke.
An investment in this high-density foam chaise lounge may just lead to priceless practice possibilities! The chair is intended for exercising and stretching, but can easily double as a comfy space for reading or screen time. Available either with or without wooden base legs, this chair can be ordered in seven different colors. Its microvelvet cover is removable and machine washable.
Micro-movements from sitting on a balance ball chair engage the body and mind, leading to higher energy levels. Incorporate this equipment into your adaptive yoga practice or, for increased productivity and focus, use it as a desk chair. It's recommended for users 5' to 5'11" tall. And this Gaiam Classic Balance Ball Chair comes with an air pump.
Rectangular in shape, the Gayo bolster pillow is made with 100% certified organic cotton. It's breathable, soft and moisture-wicking to inspire a restorative yoga session. Use this piece during challenging poses to curb injury or even during deep-breathing exercises. It comes with a convenient carry case.
Tune into your mindfulness practice as you tune into soothing sounds. There's no need to fuss with uncomfortable earbuds as this wireless garment allows you to listen to music while doubling as a hair- and sweat-control headband. Plus, it remains restfully in place so it won't distract you from your practice.
If you've finally warmed up to Bikram or hot yoga, be sure to have a Youphoria Yoga towel within reach. It's made of lightweight microfiber and can absorb seven times its weight in water. That way sweat won't turn your yoga mat into a slip n' slide. Plus, machine-washing this towel is much easier than hosing down a smelly exercise mat.
This adjustable floor chair is described as a meditation chair, but it can seamlessly double as an alternative yoga seat. The detachable buckwheat-filled cushion provides added comfort. And the chair is especially inviting for those who prefer a seated savasana position over the flat, lying down savasana position.
Using any stretch strap can help yogis achieve desired poses and improve flexibility. But this multi-loop version is especially user-friendly with pre-looped slots, thus allowing for easier pose transitions. The strap also folds up to a compact size. 
Available in multiple color combinations, these socks are thick, moisture-wicking, breathable and offer added support around the toes. The stretch-flip elastic strap keeps these socks in place as your change positions. Interestingly, these socks come three to a pair (rather than a set) so you can mix and match colors just for fun.
Joints and knees can certainly be tested during yoga sessions but the extra padding of this thicker yoga mat allows for a gentler practice. It's textured on both sides to ensure a non-slip experience. It comes in gray/lime green, light/dark gray and purple/pink combinations.
These chiropractor-designed blocks optimize wrist angle and shift weight to the palm for rock-solid yoga wrist support, equating to 60% less pressure. These high-density foam blocks have an anti-slip surface and come in a set of two.
This accessible seat is intended to relieve back pressure, correct posture, relax muscles and, overall, help one stretch. The chair also comes with a bonus yoga resistance band. It can accommodate up to 350 pounds and be folded for storage. Choose either a black or grey hue.
These slant and stretch wedges help make muscles more responsive during exercise. During yoga practice, or any physical therapy for that matter, the wedge(s) supports proper stretching to reduce the chance of injury. Each wedge measures 13″ x 12″ with the standing area about 15-20% larger than other wedges.
This bolster pillow can support any part of the body but is especially suitable for the waist, hips and neck. It uses a high-density, slow-rebound sponge material for support. Plus, this pillow can transport from the yoga studio to the office to serve as a pelvic pillow between the waist and the chair, thus lifting the back tendons to better maintain posture.
Where to Find Adaptive Yoga
Now that you're outfitted with the best adaptive yoga equipment, it's time to find an adaptive yoga class. Certified adaptive yoga teachers lead sessions in studios nationwide as well as online. Plus, you can always learn poses and do a self-guided practice (or follow along on a mobile app). Here are helpful instructional websites:
FYI, September is National Yoga Awareness Month. We're so glad that you're aware of the possibilities of adaptive yoga. Namaste! 
Note: Before beginning any exercise, including adaptive fitness, talk to your healthcare provider.
Interested in reading similar content? Read these articles:
This article contains affiliated links.