It's football season! And Caden Cox wants to help football fans of all abilities enjoy America's most popular sport… and dress the part too. His name probably sounds familiar. That's because you've likely seen one of his viral TikTok videos (he's got a whopping 324.6K followers tuning in for fun dance clips) or seen ESPN's coverage of his history-making football career.
Cox is a sophomore at Hocking College in Ohio, working toward an Associate Degree in Therapeutic Performing Arts & Assistive Animal Studies. He's also embarking on his second season as the kicker for the Hocking College Hawks Football team.
A Collegiate Football Play for the History Books
During the first home game of the 2021 season, Hocking College played against Sussex Community College. That's when Cox, then a rookie in his freshman year, made sports history. He became the first athlete with Down syndrome to play and score in an NCAA or NJCAA college football game! He earned the 35th point for the Hawks by successfully kicking an extra point following a team touchdown.
Cox is used to the "extra" conversation. You see, those within the disability community may connect that Cox's jersey number (21) honors his differing abilities. Individuals born with Down syndrome have an extra copy of chromosome 21. According to the Centers for Disease Control, approximately 6,000 babies born in the U.S. each year have Down syndrome, the most common chromosomal condition. This equates to about 1-in-every-700 babies.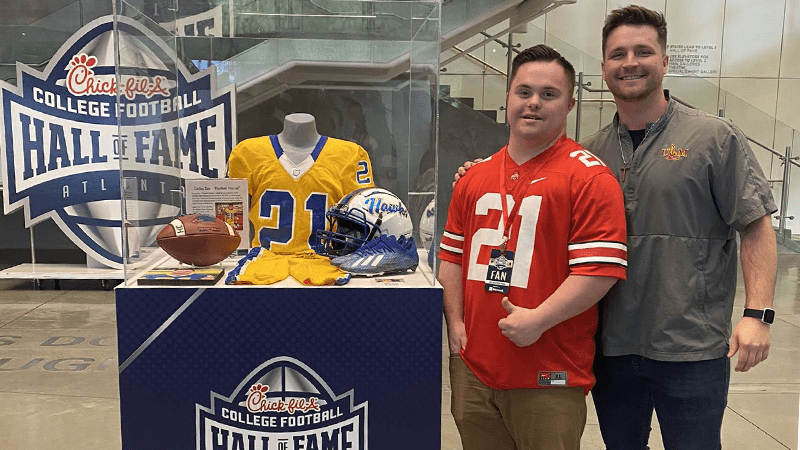 Cox's collegiate success follows his impressive high school performance, where he was named "Player of the Game" during his Senior Homecoming football game. Extra chromosome aside, Cox undoubtedly has athletic genes. In fact, his older brother, Zane, previously played college football and remains active in the sport as a coach. Cox also credits his father and uncle as influences in his sporting endeavors. However, #21 is the only member of the family to score a dedicated exhibit in the College Football Hall of Fame!
Outfitting Fellow Football Fans of All Abilities
In July 2021, for the first time in college athletics history, the NCAA and NJCAA approved student-athletes entering into Name, Image & Likeness (NIL) contracts with private businesses. That means student-athletes are now permitted to receive financial compensation or sponsored products. Remarkably, Cox became the first student-athlete at Hocking College to sign into a NIL Amateur Athlete Contract.
Just this summer, in June 2022, Cox landed a deal to create his own clothing line with Jake Max, a socially-driven apparel brand on a mission to maximize the entrepreneurial creativity of people with special needs through art. "Caden's Collection" for Jake Max features t-shirts, hooded sweatshirts and hats embellished with the slogan "Kickin' Down Barriers." The vibrant artwork includes a #21 football soaring through a goalpost.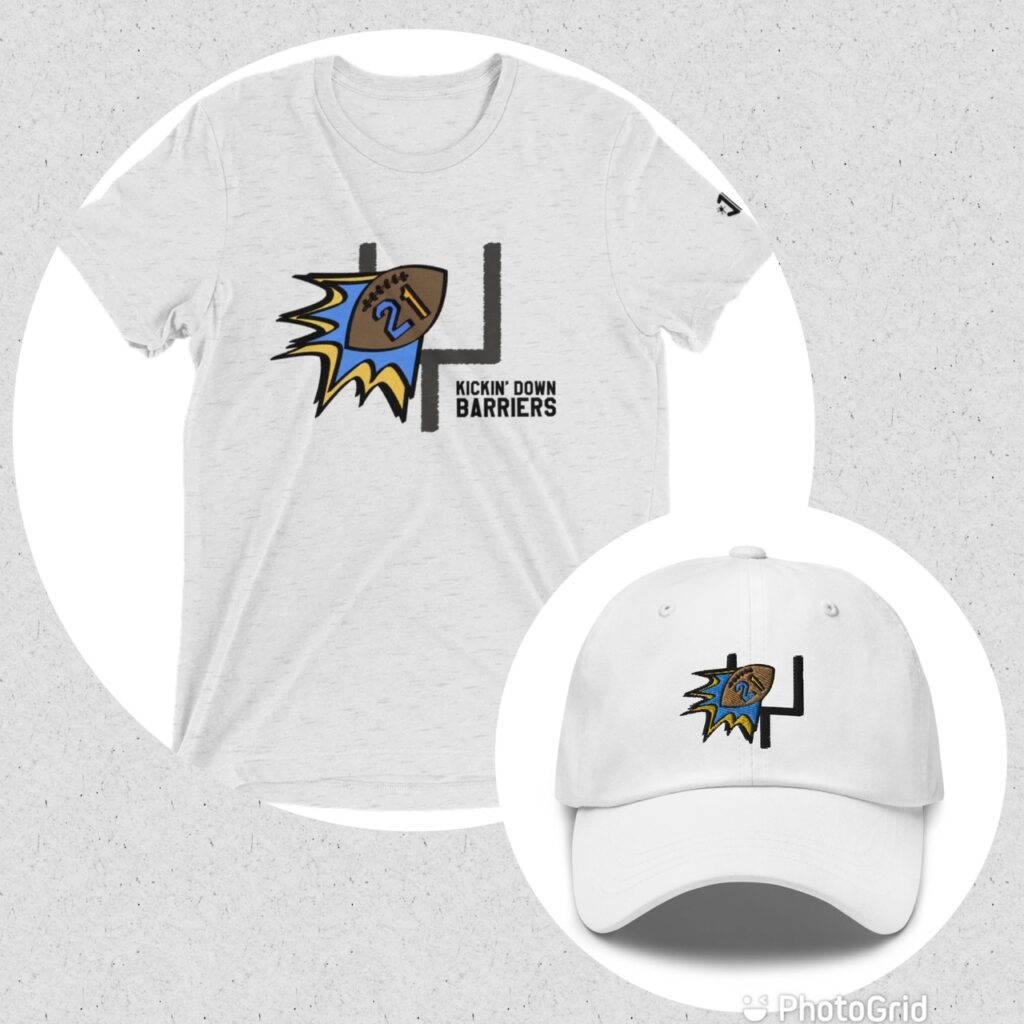 Jake Max is the brainchild of Tyler Greenberg, who drew inspiration from his twin cousins, Jake and Max. They were born with Fragile X Syndrome, which is one of the most common causes of inherited intellectual disability.
Cox finished the 2021 season with 100% kicking accuracy! And now kicking off the 2022 football season, football fans of all abilities are routing for this athlete to kick down barriers – both on and off the field. Cox also enjoys and excels at many other activities, including advocacy efforts, bowling, dancing, golf, Taekwondo, theater and swimming.
Interested in reading more content like this? Check out: