Sports fans are celebrating the University of Connecticut Men's Basketball Team victory over San Diego State. And thanks to a very special March Madness moment during this year's tournament, the UConn Huskies also won over new supporters from a specific fan base: the disability community and its allies.
The influential moment happened between Rylan Ellingwood, an 11-year-old with chronic immune dysfunction, and the victorious UConn squad. You see, thanks to the nonprofit Team IMPACT, Rylan was in the stands during the NCAA Championship held in Houston, Texas. Team IMPACT is a charitable organization dedicated to matching children with disabilities and/or serious illnesses with college sports teams to, ultimately, score life-changing experiences.
Matched with the UConn Men's Basketball Team since 2018, the young resident of Ellington, Connecticut has attended countless games with his family, plus practices and other team activities. As a result, meaningful connections have been made. So much so that, in turn, the collegiate athletes also cheer Rylan on at his youth baseball games.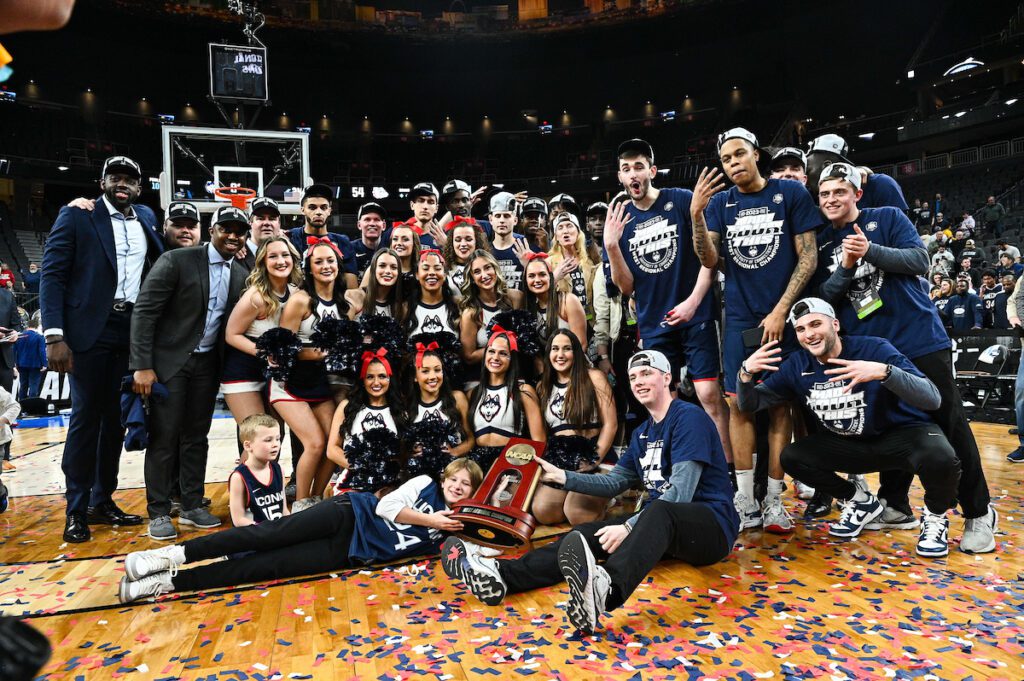 "For a healthy child, there are a number of systems through their family, school or larger community where they are able to find support and socialization. For children living with a serious illness or disability, these systems can be strained," Team IMPACT's CEO Seth Rosenzweig tells AmeriDisability. "Team IMPACT provides access to a safe, supportive and encouraging environment for any child by matching them with a local college athletic team and campus community. Our program creates long-term, life-changing experiences for children and their families – building confidence and fostering resiliency to ensure all kids can get in the game."
The Power of Disability Allies
To live with his chronic immune dysfunction, Rylan requires regular intravenous infusions. As one may imagine, living with a chronic condition can be exhausting. But, thanks to his strong bonds with the Huskies' players, Rylan has transformed his mindset and approach to his medical treatment — focusing on hope and perseverance instead of fear and anxiety.
"Team IMPACT saved Rylan — truly saved his life! We were very concerned about Rylan physically and mentally prior to Team IMPACT. This has given him back his childhood, made him feel special; and he loves that his UConn buddies treat him like he's normal. It brought our family back together when it was struggling," Tanya Ellingwood, Rylan's mother, explained.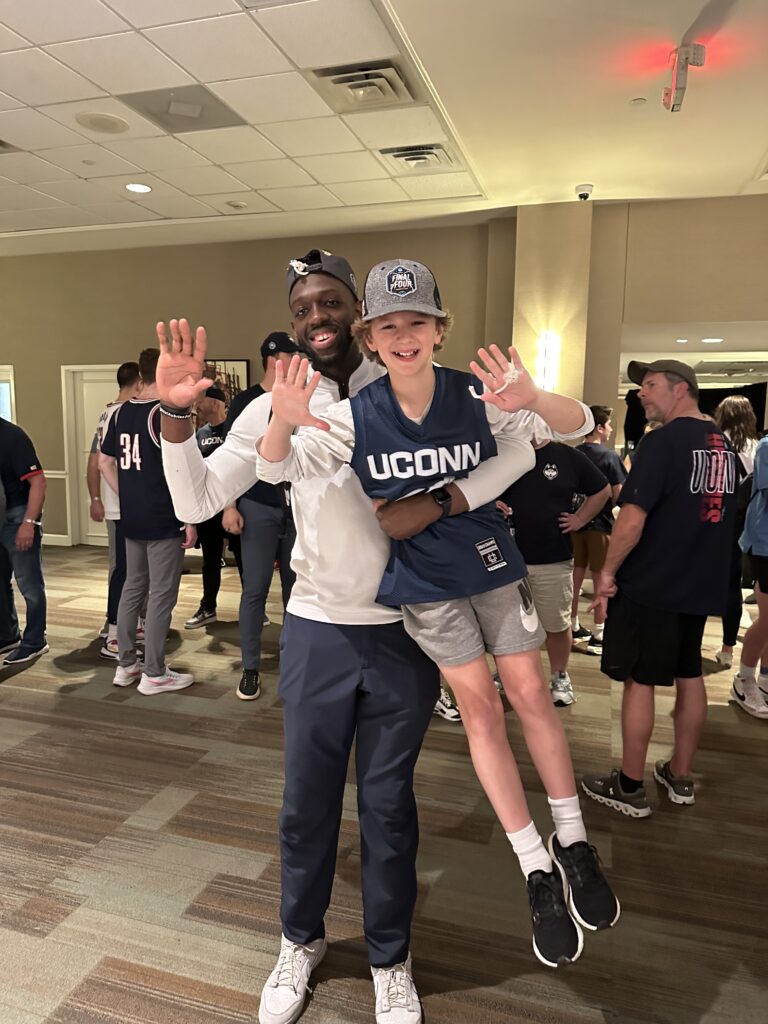 A Winning March Madness Game Plan
Team IMPACT helped to pull off an epic March Madness surprise for Rylan. First, he was invited to participate in a Zoom call with the Huskies. Since it was held on his birthday, the players sang 'Happy Birthday' to him, but then the real birthday treat came. The Huskies revealed that Rylan and his family would be flown out to Las Vegas for the Sweet 16 and Elite Eight games, followed by a trip to the Final Four if UConn made it (which, of course, they did)!
Fast forward to the tournament's climatic moment. UConn slam dunked the win and, then, the Huskies Coach, Dan Hurley, and the entire team brought Rylan down to join in the celebrations. Rylan's mom, who was also at the championship game, attests that her son truly loves the college comrades. "One of the guys cut down a piece of the net for him. They were hugging him and thanking him for coming and telling him how much this meant to them. And we're sitting here like 'oh my gosh… how does this mean anything to you? It means everything to us!'" Tanya recounted during a FOX61 interview.
The 2023 National Championship Title is UConn's fifth title in the past 24 years. UConn was genuinely thrilled that one of their biggest fans was in the arena to see the historic victory. "He's a part of this team just as much as anybody else," said Mamadou Diarra, Director of Player Development, UConn.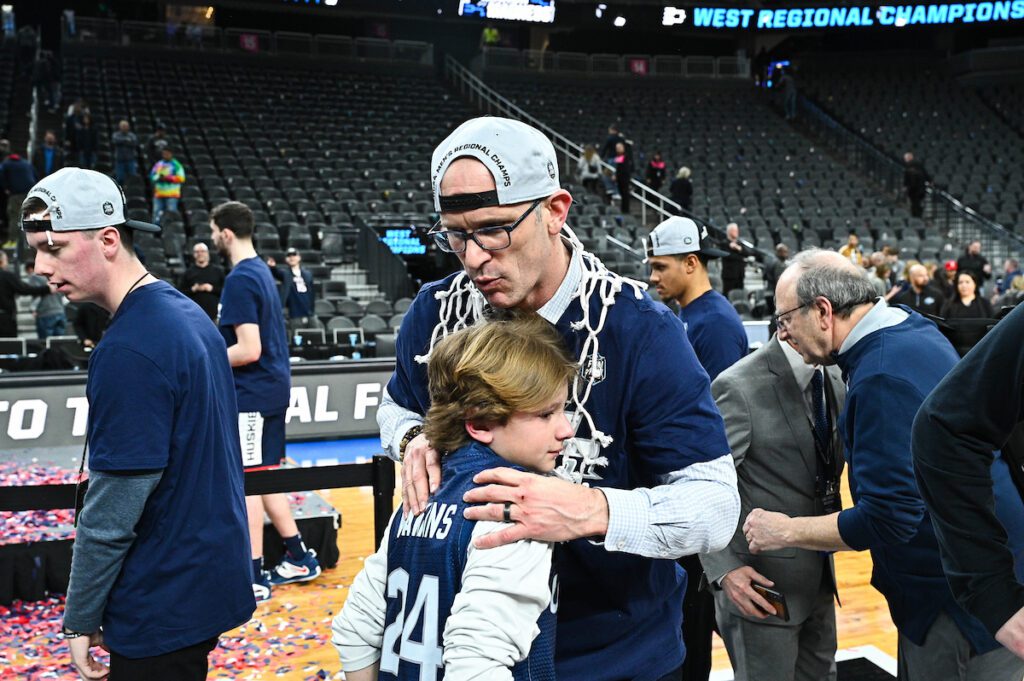 Rylan is one of many children with disabilities and/or illnesses that have benefitted from Team IMPACT's mission. A representative for the nonprofit tells AmeriDisability that Team IMPACT has matched more than 2,600 children with over 700 colleges and universities, impacting more than 66,000 student-athletes. Now that's a win-win!
Want more content like this? Read: